When:
April 26, 2022 @ 5:00 pm – 7:30 pm
2022-04-26T17:00:00-04:00
2022-04-26T19:30:00-04:00
Boat Location:
Navy Marina Slip A49
17 Perry Rd
Newport, RI 02841
USA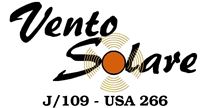 Note: We will have extra people onboard and will rotate through for training evolutions. Normally we limit max crew to 8 (7 for OD events).
Please be at the dock on time to stow gear and a quick brief so we can be out on the water at 5:30pm.  
Andrew – text when you are 10 minutes out and someone with an ID will walk out and meet you so you can drive your car on base.
Leave dock when Eric gets to boat (~1730).
–Practice upwind settings, tacks, calling wind and shifts, crew communications, jib trim and inhaul settings
–Spinnaker sets, jybes, downwind settings, crew communications
–Dust off the cob webs and instruct new crew on Vento Solare race routine and instruments
Using One Design Class Sails
Be at Navy Marina Slip A49 - Tue April 26th @ 5:00PM EDT
Post # 4777